Recently seeing Exdua aka Uncle De again was a great opportunity for me to see Uncle De's latest gadgets, himself also a tech enthusiast. Here's a run down of Uncle De's latest tech/gadgets:

Shaver: Wilkinson Sword Quattro Titanium
I found myself unable to keep my eyes off Uncle De's sleek and ergonomic looking four-bladed razor. With a moniker like Wilkinson Sword Quattro Titanium, with FOUR blades I wouldn't be surprised if Uncle De also uses the thing for skinning fish, mowing his lawn or cutting down trees. Myself, I'm currently using the vibrating Gillette M3 Power. Please don't get me started on what other things I could use my vibrating razor for. Personally I hate the M3, and I think the vibrating "function" is nothing more than a gimmick. (Verdict of the M3: 2.9/5)
Digital Video Camera: Sony HDR HC3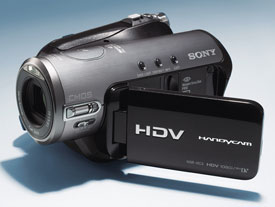 Uncle De recently invested in a (very expensive!!) next-generation high-definition sleek Sony DV camera. My goodness, the jet-black DV camera looks mighty sweet. But sweeter still is the picture quality. Capable of capturing up to 1080 interlaced resolutions, the detail shown in videos of the kids playing in Uncle De's garden was spectacular. This camera uses traditional MiniDV tapes and what is surprising to me is it is able to capture 60 minutes of high definition video on the MiniDV tapes. This amazing gadget really left me awed.
Car: Fiat Multipla
Uncle De drives the ugly-as-sin yet down to earth Fiat Multipla. Despite its looks, the Multipla received critical acclaim by reviewers world wide and I think suits the practical and down to earth Uncle De very much. Able to accommodate 7 people in various configurations, the seats could be removed to make it a mini-transit. Apparently it drives well too.
TV
:
Okay, this one Uncle De has yet to possess but I have a feeling it's not going to be long before he does own one. Our main topic of discussion over the weekend was high definition televisions, particularly the 100Hz 32 inch widescreen high definition ready Samsung WS32Z419D. What's special of this particular TV is that in the UK, it's one of the first high definition ready CRT TV, as opposed to the already abundant LCD TVs. CRT TVs are generally bulkier than their LCD counterpart, but much cheaper. This TV costs around £499 whereas an equivalent LCD would cost around £750.
As Kenakelayan once said: It's dangerous when boys get together (and discuss gadgets). I feel sorry for both Auntie De and Mama Sarah! However, it was really great getting up to date with the latest in tech with Uncle De. Hope he buys the TV soon!