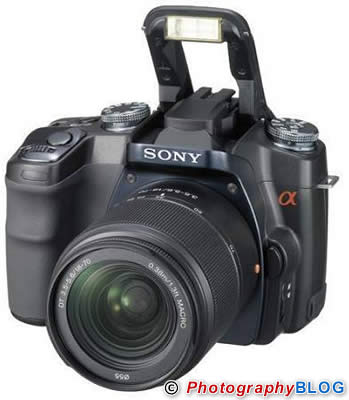 The time has come readers. After almost a year of yearning and waiting, the planets seems to have aligned and I have finally decided that it's about darn time to upgrade our 3 megapixel camera to a digital SLR.
I don't know what it is but recently everything seems to have converged for me to buy a DSLR. Ikelah has been saying I should for months, Puan Mama Sarah had even mentioned we should get a DSLR as a combined gift for our anniversary and even my normally frugal father has been encouraging me to buy one (he said "belilah dua lens, siap dengan telephoto" and texted me the price of a Canon D400 in Malaysia). I have also had enough of looking at our mediocre quality photos from our travels (yeah, blame it on the camera! hahaha).
However, I need your help readers:
With a budget of £500 (roughly RM 3500) which camera should I get? That budget needs to include AT LEAST a 18-55mm lens.

The DSLRs I am currently looking at are: the Sony Alpha, Canon D350, Nikon D50 (at £500 would come with two lenses an 18-55mm and 35-200mm), Nikon D80 or Nikon D70. Any particular suggestions on which camera to buy that would fit into the budget?

Should I get the camera in Malaysia or here in the UK? Some friends are coming over to the UK and they could help bringing the camera over.

Any particular stores - either on the highstreet or internet with the best prices for the camera?

What other equiptment would I need? My interests in photography include taking macro photos, buildings, travel photos, nature, food, portraits, people and children. (however, a macro lens would have to wait until next time I break the piggy bank :)
The best two so far I could come up with are:
A Canon D400 with a 18-55 mm lens in Malaysia for RM 3599 (conversion rate is 7 nowadays, right?)

A Nikon D50 in the UK with an 18-55 and a 35-200mm Nikon AF-S lenses is £500 in the UK.

A Nikon D50 with one lens in Dixons is £377. But only one lens.
I would extremely appreciate your comments as I'm having a headache deciding what and where to buy. Once I reach a decision, I'm thinking of buying the camera as soon as I finish doing nights oncall (which is this Thursday).
I am so excited, and can't wait to buy the camera!
ps
the £500 is a rough guide, I am willing to spend slightly more as long as the returns are worth it.